A lot of you have been asking about my experiences with the Bootea teatox – and I'm excited to share them with you. Teatoxing: all the rage right now.
Teatoxing, c'est quoi? Teatoxing involves a lot of, well, tea consumption. The Bootea 14-day teatox provides you with two weeks' worth of Bootea tea blend, which means you'll get 14 bags of daytime tea and 7 bags of night-time tea. These teas are designed to work together to help rid your body of bloating, and the all-natural herbal ingredients gently clean the digestive tract and detoxify the body. On top of that, the herbal mix should boost your metabolism while reducing cravings.
Let's get down to business: no fancy words and hopeful promises, merely my own experiences with this particular brand of teatoxing. The packaging looks really cute, with enthusiastic quotes and playful colours – just the way I like my bag of tea in the morning. Shipping was as described on the website and the price is very reasonable for 21 packets of tea.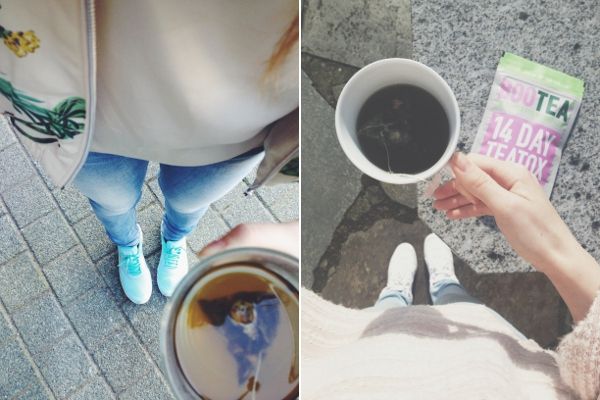 The first day 
I started my Bootea 14-Day Teatox with a rather bloated feeling – I had been sick for over a week and felt like my digestive system stopped functioning properly. I had eaten nearly nothing that week, and for a good three days all that entered my body was water and medicine, leaving me with a hard and swollen tummy. Suffice to say I was rather curious as to what effect the teatox would have on my body! I kicked off the first day by pouring some hot water on this cute triangle-shaped tea bag – which smelled really nice. The daytime tea consists out of:
"Chinese Oolong tea, Maté leaves, Ginger root, Fennel seeds, Lemongrass, Dandelion leaf, Ginseng root, Gotu Kola leaves and Nettle leaves"
and actually tastes yummy. I'm a drinking-tea-by-the-gallons kinda gal, and I especially have a thing for herbal teas. I dislike the fruity variations and am thus familiar with the taste of herbal tea – which might be why I loved the taste of the Bootea Daytime Tea. I suspect people who dislike herbal flavours might have a bit of a hard time with this one, but I think you'll get round rather quickly. Anyways, on day one I accompanied my first cup of tea with a quick breakfast: oats with warm almond milk and banana. I found this was the perfect meal to start the day with, I had a full feeling throughout the entire morning and I loved starting my day with a hot cup of tea.
As usual, the mental part of this experiment (aka. The feeling of 'ooh I'm so healthy and all!') had me ignoring snacks and sugar throughout the day. The Bootea team offers a meal plan to pair with your Teatox, but I chose not to follow it. I didn't start my tox with the intention of losing any weight, so rather than focussing on diet food, I just ate normal meals, combined with the tea.
Night-time Teatox 
The night-time teatox has a strong hint of peppermint – not really my favourite taste but it certainly was drinkable and even enjoyable. There's something soothing about having a hot cup of tea right before going to bed – I drank mine while watching television and I tried having it as close to bedtime as possible. Why? The Night-time Teatox has a laxative effect, which I have to admit I was pretty scared about. The effect kicks in about 8 hours after consuming your cup, which should be the perfect window for a good night's sleep. I wasn't particularly looking forward to having to sprint to the bathroom in the middle of the night, and so I quickly downed my night-time tea and hesitantly got into bed. The night-time teatox has to be used every other day, so there are 7 bags of tea in the 14-day programme. Anyways, without going into detail too much, I didn't really experience anything out of the ordinary the next morning. Upon waking up I enjoyed my second cup of the daytime tea and headed off to work.
It is advised to drink a lot of water during your Teatox, something which will only add to the positive effects you're hoping for. The Teatox certainly had me feeling healthy, energized and substantially less bloated. I now wake up with a flat tummy every morning, and I gladly start my day with a hot cup of Bootea. The only negative? I wish Bootea offered a 356-day tox!
PS: I found it hard to write this post and give you the answer you've been asking me about: "Should I order a Bootea Teatox myself?" Well, don't expect miracles: if you're munching on pie and burgers, these teas won't give you a flat stomach. These teas won't even give you killer abs and they won't squat for you. But they are a nice add-on if you're looking to lead a healthier lifestyle. The Teatox will remind you of your healthy vow every morning upon waking up, and every night before going to bed. Which can be a truly great thing for you and your body!
Get your own Bootea Teatox on their website – the 14 day cleanse will set you back about €24 plus shipping. Bottoms up!